Free WRKACTSQL command for IBM i (AS/400, iSeries)
Includes one free perpetual license for one LPAR but you must provide the serial number and LPAR id when requesting a permanent access code.
No one-time software license fees
No annual software maintenance fees
No monthly or annual subscription fees
Software installation, configuration and maintenance technical support is included.
Download and installation procedure includes our software, commands and API bundle and our Workload Performance Series free 30 day software trial.
NO PURCHASE REQUIRED.
All trial software must remain installed because several modules of the trial software are used by the free software. The trial software deactivates automatically after the 30 demo period.
What our clients say...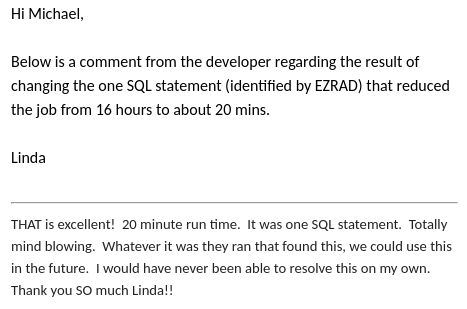 Workload Performance Series
Free 30 day software trial (request quote)
A comprehensive, integrated suite of modules for your IBM i (iSeries, AS/400, System i) servers that looks at virtually every aspect of your system's application processing environment to diagnose and eliminate processing bottlenecks while avoiding unnecessary hardware upgrades. This software benefits Executive Management, Systems Administration and Software Development through a variety of tools.
When used regularly, the Workload Performance Series software makes it easy to proactively pinpoint and correct the specific causes of system performance issues to save money, increase productivity, and improve quality throughout your organization.
Unlike other systems management tools, the Workload Performance Series software pinpoints root-cause performance issues and provides easy-to-implement solutions that can be executed immediately such as database tuning, application changes and systems-management technique improvements.
The power of the Workload Performance Series software lies in its ability to capture performance-related data that lets you quickly focus on the root causes of system performance issues. Because the parameters of the software's data collectors are easily customized, you can fine-tune the software to concentrate on specific areas of interest within your environment.